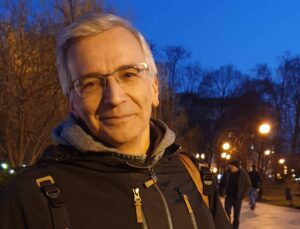 Experienced and caring
life-coach
supervisor
brain-spotting therapist
personal development coach
coach of coaches
facilitator of Open Space Technology
methodist teacher
I work face-to-face, on the go and online in three languages: Ukrainian, English and Russian, as needed.
I have been working with children and families since 1984 until today. 20 years of direct school experience and almost 40 years of teaching experience at various levels of the educational field and with all age categories: from preschoolers to postgraduate education. Methodist teacher; trainer in teaching methods and management of educational institutions. Director of recreational programs "Magic Camp".
Life coach since 2000.
In Gestalt therapy since 2008.
Supervisor since 2019.
In my work, I use the methods of Gestalt therapy, Brain-Spotting, cognitive-behavioral therapy, system placements; I use elements of other approaches and methods, depending on the needs and characteristics of clients (art therapy, fairy-tale therapy, phototherapy, body-movement therapy, sound therapy, nature, etc.).
I can provide any kind of psychological, training and coaching help, but I am especially interested in solving complex family, couple, child-parent situations, psychosomatic manifestations (including panic attacks), overcoming anxiety and fears, getting out of the state of guilt, resentment, vulnerability, codependency, trauma.
I help quickly and efficiently, but taking into account individual characteristics: everyone needs their own approach and time to solve the problem, and taking into account the desired depth of immersion.
I give everyone (if desired and necessary) techniques and train the skills of overcoming stress, relaxation, gaining confidence, resilience, vision of the main thing and increasing the level of emotional intelligence.
I do not work with each client randomly, but according to a pre-discussed and agreed contract, although there are also those whose problem is solved after the first meeting, because we follow a proven algorithm according to the wishes and goals of the client, and already at the first meeting you can form a "road map » solving the problem, and the client has the strength to move on independently.
Read my resume. Check out my certifications.
Read reviews of my work or write your own.
Want to find out something? Ask!